Welcome to The Finer Recliner

, micro-manufacturer of unique aftermarket recumbent CURVE neck rests, side mount kits and other accessories. It's our goal to bring a new level of comfort to your riding experience and do it in a fun and creative way that lets you truly personalize your ride. Hopefully all the information is here to help you make your selections, but please feel free to contact me with any questions or special requests. Make sure to check out the new Generation 2 CURVE neck rests.
Recumbent accessories for:
• ICE • Catrike • Trident • Greenspeed • Steintrike
• Azub • HP Velotechnik • Sun • Hase • ...and more (just ask)

Catrike Neck Rest
replacements

Custom Embroidery

Tail Lights

Custom Applications

Side Mount
Kits

Finer Recliner News and Stuff

Here's a small sample of recent customers' embroidery creations. Check

here

for LOADS more examples, and

here

for helpful information about how to create your own unique embroidery.

Poly wicking Riding Jerseys in long and short sleeves embroidered with your image.
Ball Caps and Runners Caps
embroidered with your image.

Here's a great way to
answer the question, "How come you ride a trike?"
This image comes in 5 Bright, Candy-colored combinations. The good
news is that this embroidery is only $20.
If you look carefully at this batch of neck rest covers you'll see a half-dozen sporting the
Hampton's Edge
logo. That's because Regis and Cindy have outfitted their entire Catrike rental fleet with CURVE kits.

So if you're anywhere near Floral City, Florida, want to ride the beautiful Withlacoochee Trail and either can't or don't want to bring your trikes, you're in luck. You can rent a Catrike from Regis and Cindy, and try out a CURVE kit while you enjoy a wonderful ride on one of Florida's best bike trails.

After your ride check out their great trike selection and enjoy customer service at its best!
TAIL LIGHTS

.

On a trike you want to be seen. We have near-unbeatable deals on

1 watt

PlanetBike Superflash Turbos, Portland Design Works Radbot 1000s and Danger Zones, and

2 watt

Cygolite Hotshot 50 lumen and Hotshot 80 lumen Pro USB rechargeable lights.

Your CURVE kit "L" and "T" towers are the perfect mounting spot, and

because they don't weigh much there's no extra ship charge when you order other gear. Check them out here.
Check them ut here.

CURVE KITS COME STANDARD WITH A QUICK RELEASE

While I get lots of really nice comments about the CURVE kits, I've occasionally heard that they make it hard to fit a trike into a hatchback. They're the tallest part of the trike and in some cases will simply get in the way of fitting the trike into the back of the car. Quick Release kits are available to retrofit earlier Model 2 CURVE kits.

EMBROIDERY.

Near endless possibilities to personalize your trike...and a friend's.



Love your Catrike? How about one of these? We can embroider the text to match the color of your Catrike's frame.

And it would REALLY terrific on a long or short sleeve poly riding jersey!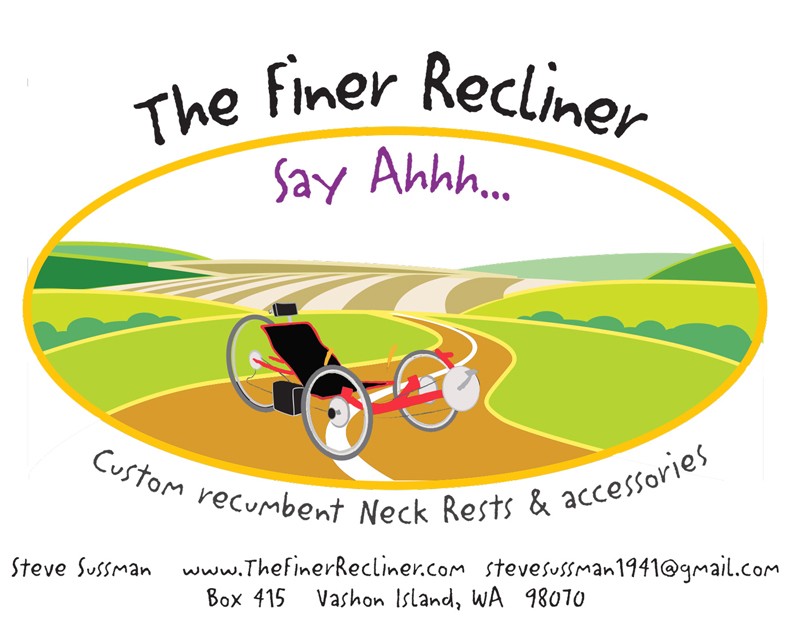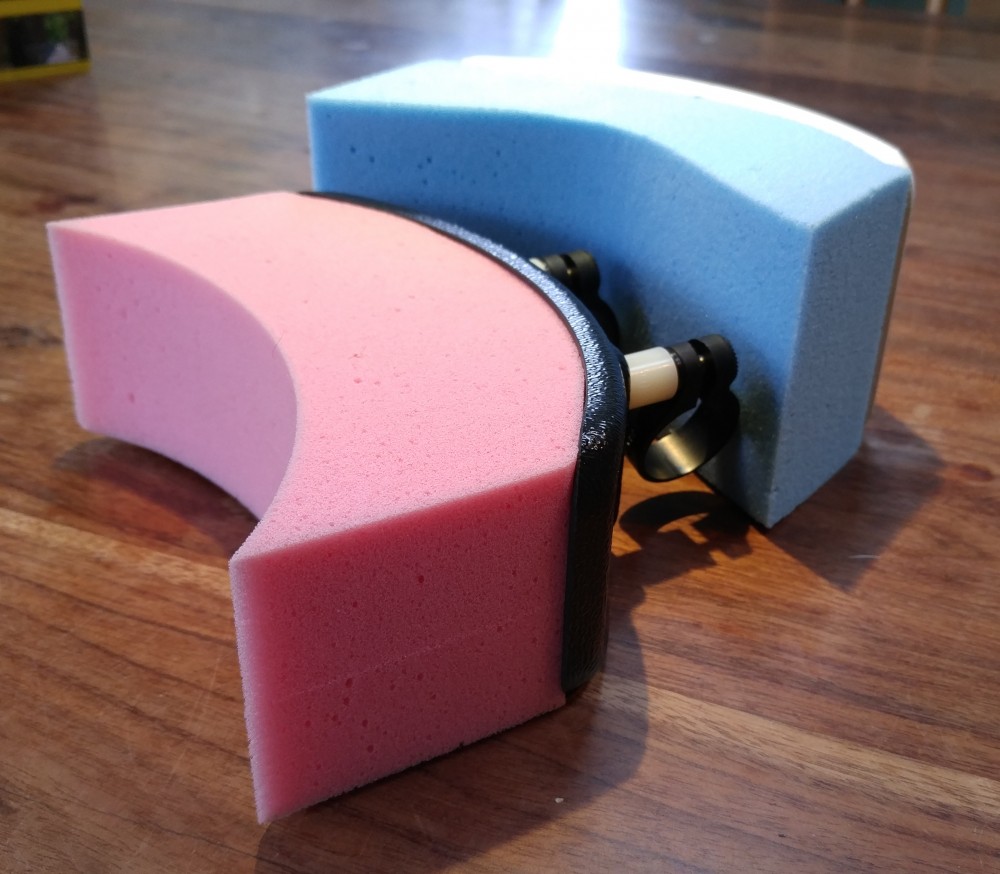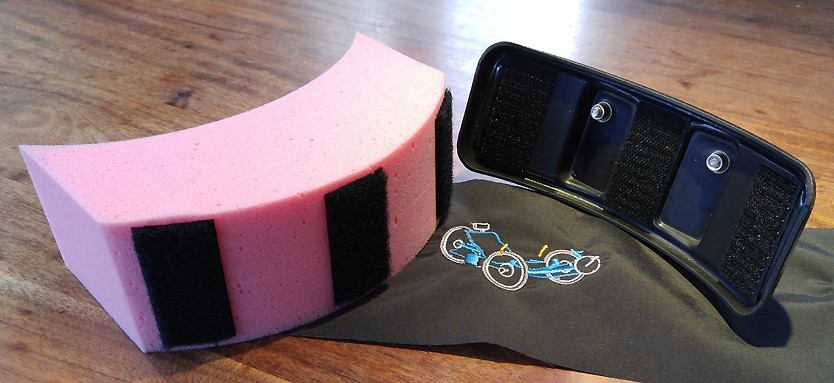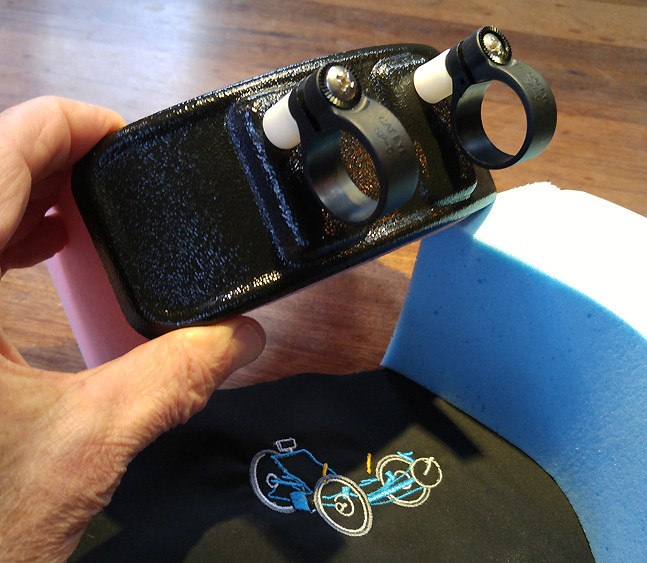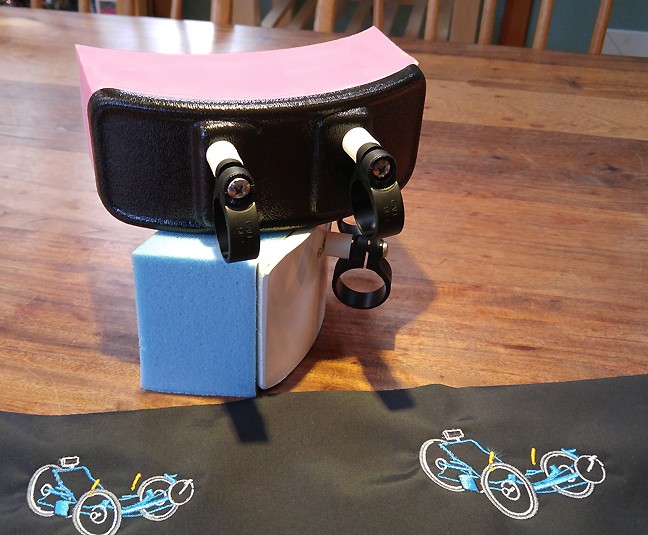 The new CURVE comes with TWO pieces of memory foam fill, each with a different density so you can choose what's most comfortable for you. The BLUE is the medium density used on the original CURVE. The PINK is extra soft.
The Gen2 CURVE is the same width as the original and it has the same 2" thick memory foam fill. However, it is now 2.25" tall versus 3" for greater fit and comfort. And the foam fill sits inside the new base rather than on it.
The new base is vacuum-formed with a black textured finish. Rivnuts hold the brackets securely.
The Gen2 CURVE weighs LESS THAN HALF the original. Embroidery is still available to personalize your trike.
GENERATION 2 CURVE NECK RESTS ARE SHIPPING NOW.

What's Special about the new Gen2 CURVE neck rests?
The new generation retains the features that have made the original CURVE neck rest so popular...but it
adds some great new features.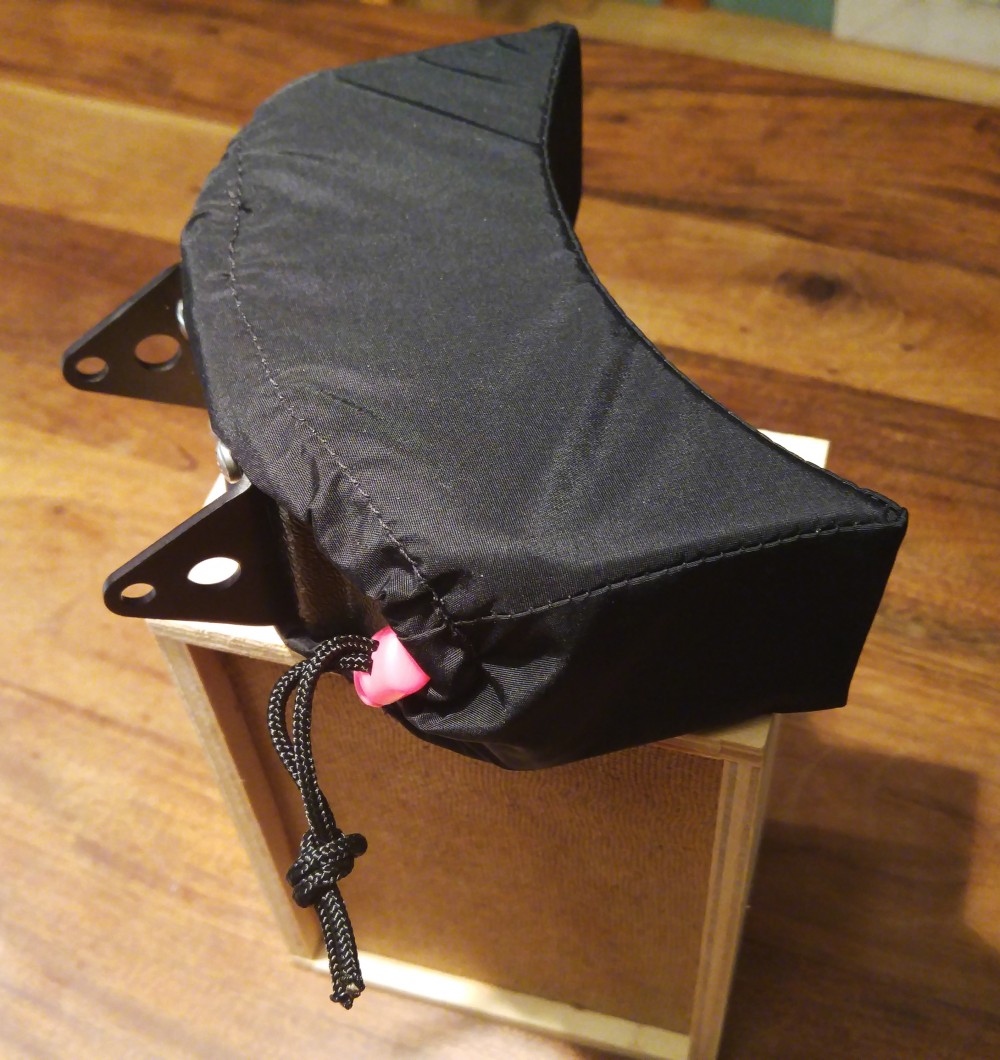 The cover is still breathable and water-resistant.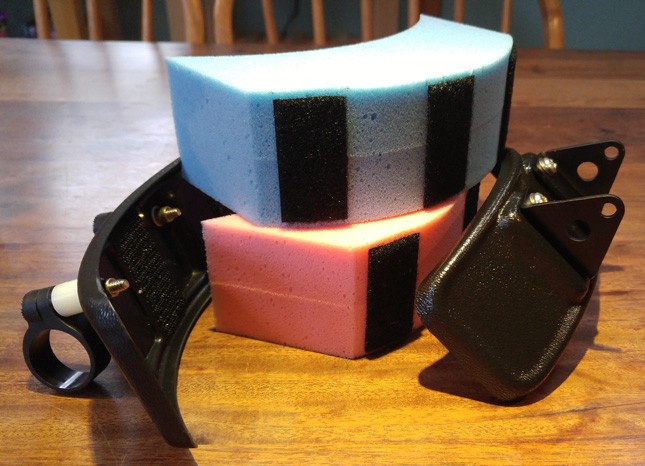 The new Model 1 brackets are smaller, black anodized by TerraCycle and adjustable.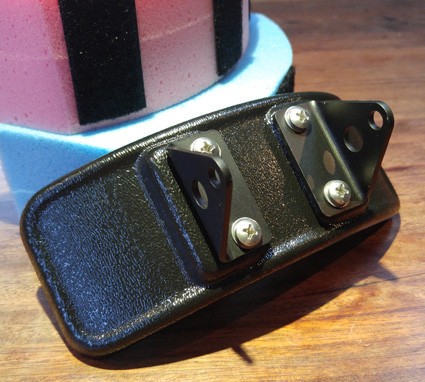 The Generation 2 CURVE neck rests and kits are here and orders are now being shipped. We're working as fast as we can to fill the orders from customers who have been so incredibly patient for so long.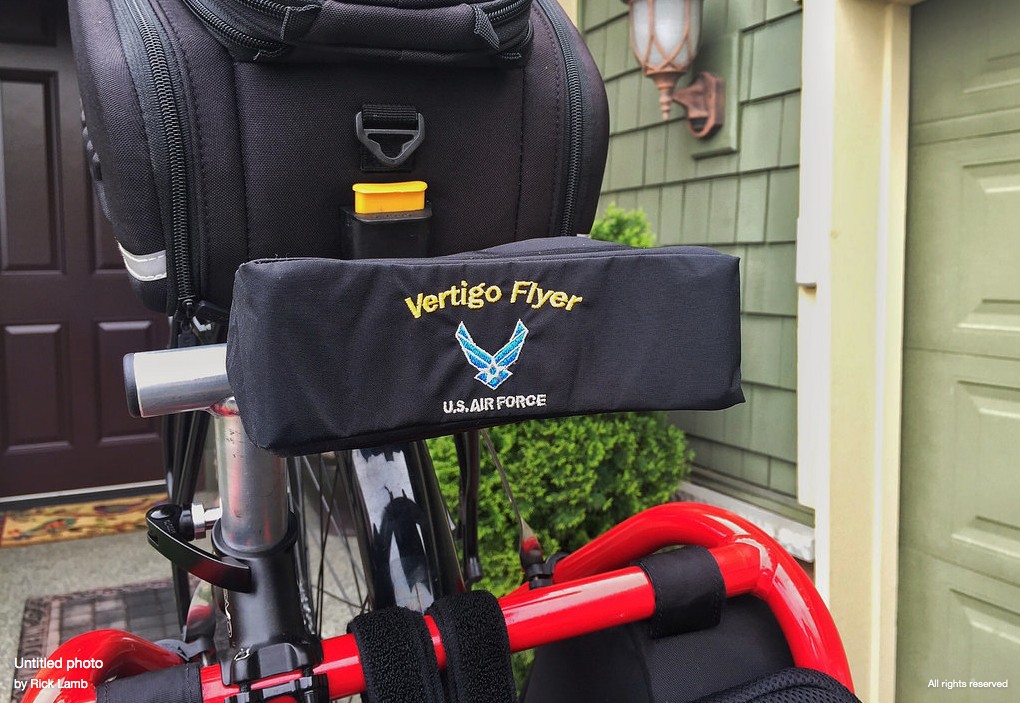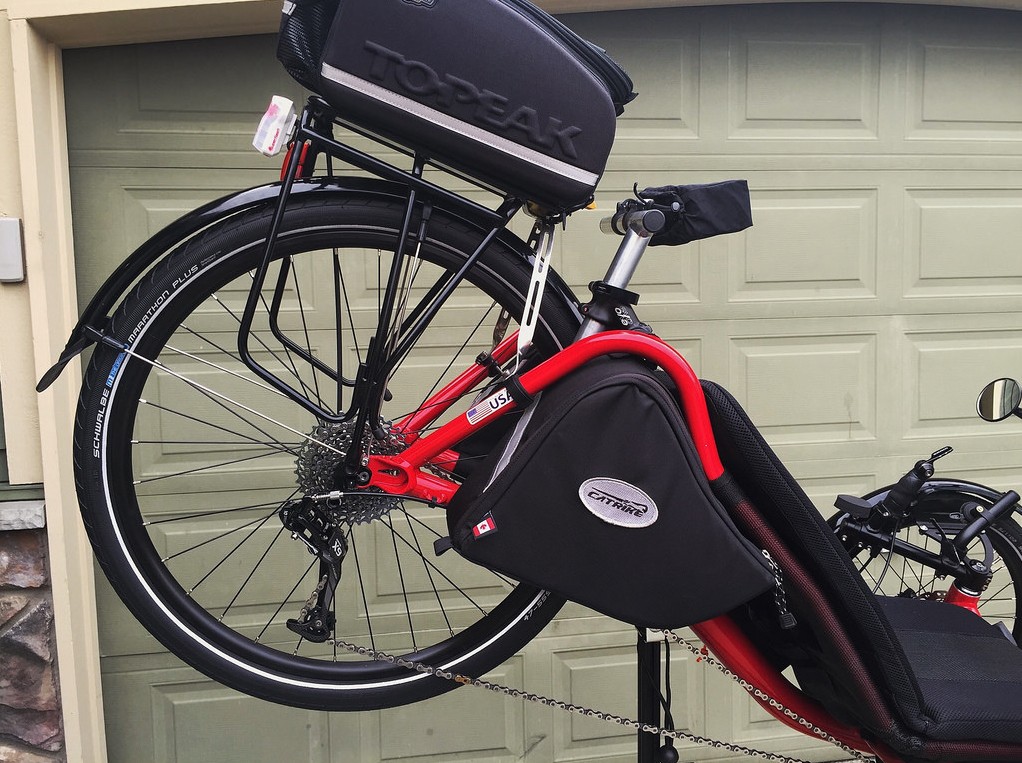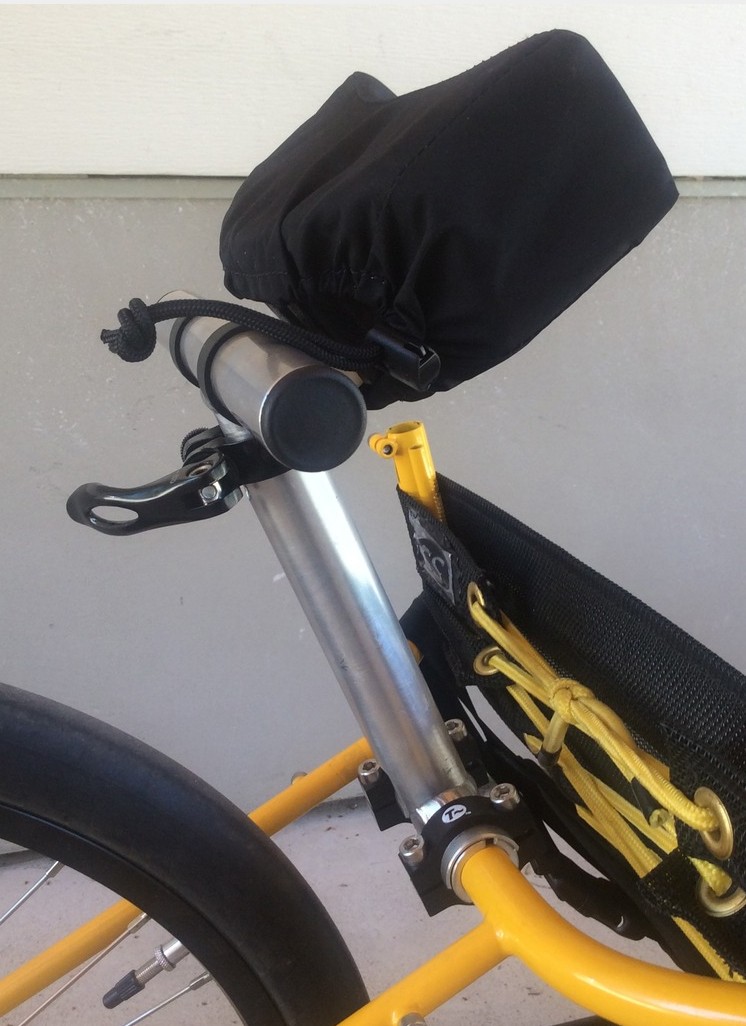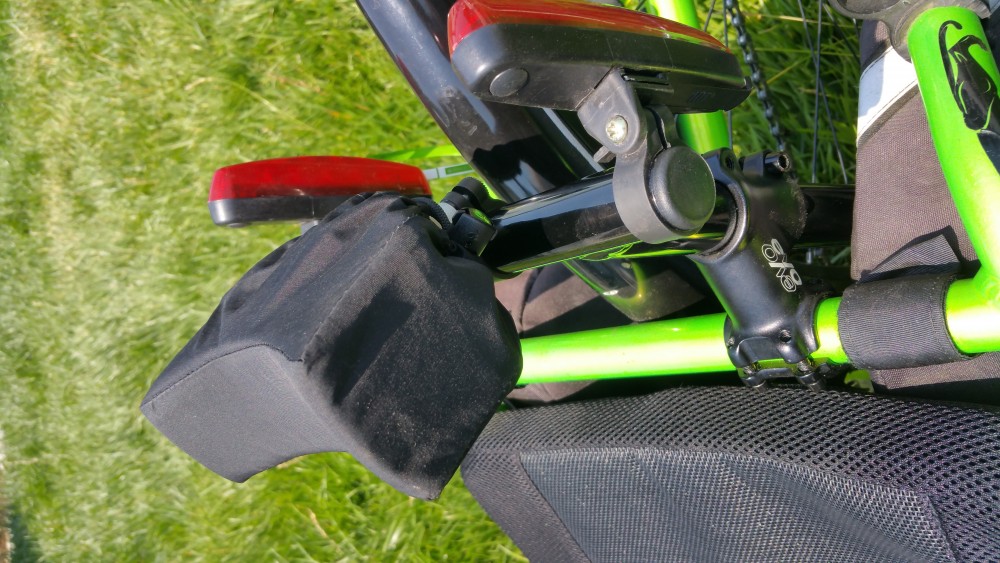 Great new designs added all the time - use ours, create your own...or have us turn your idea into something special.
Once you approve your design, Sandi embroiders it onto a piece of cover fabric. Then it's off to Zubin to be sewn into a cover for your new CURVE neck rest.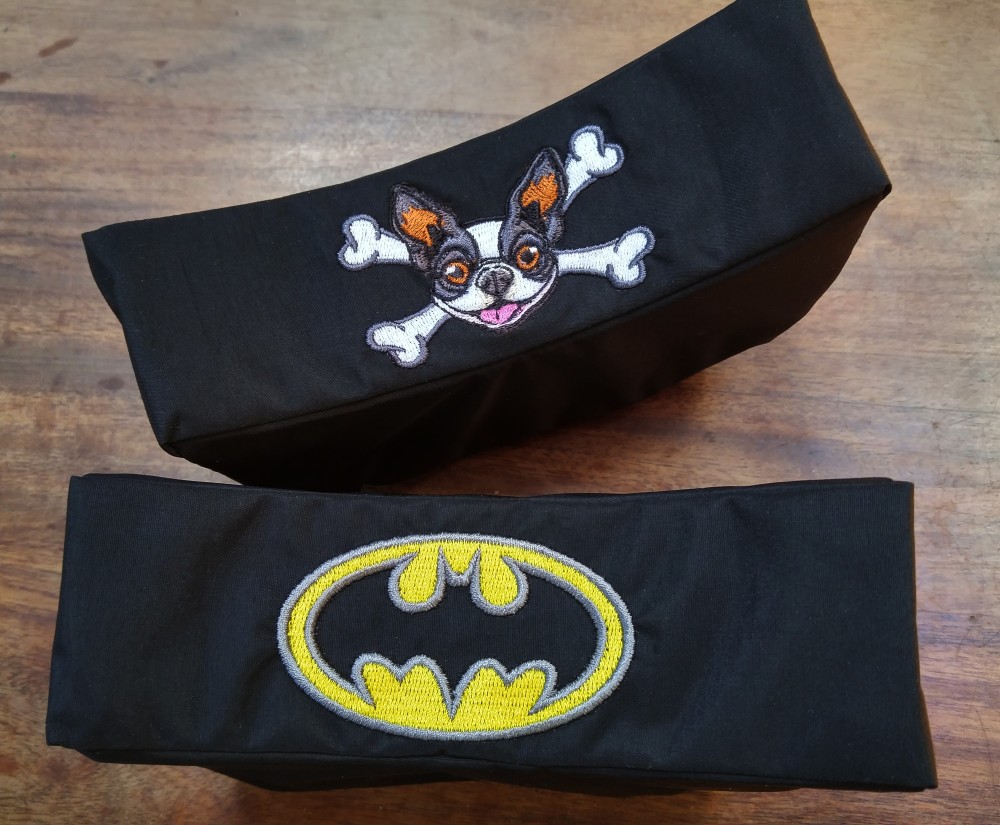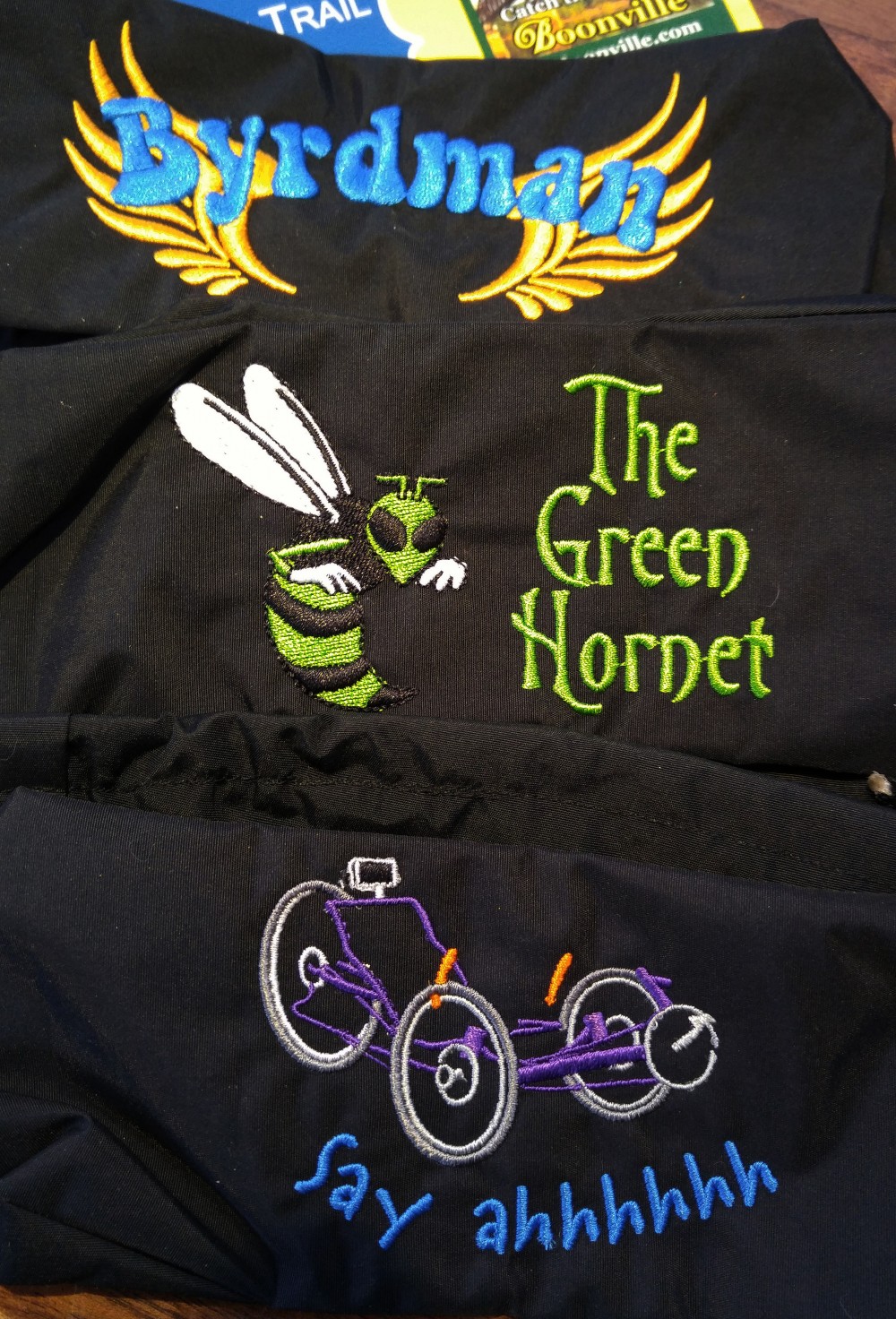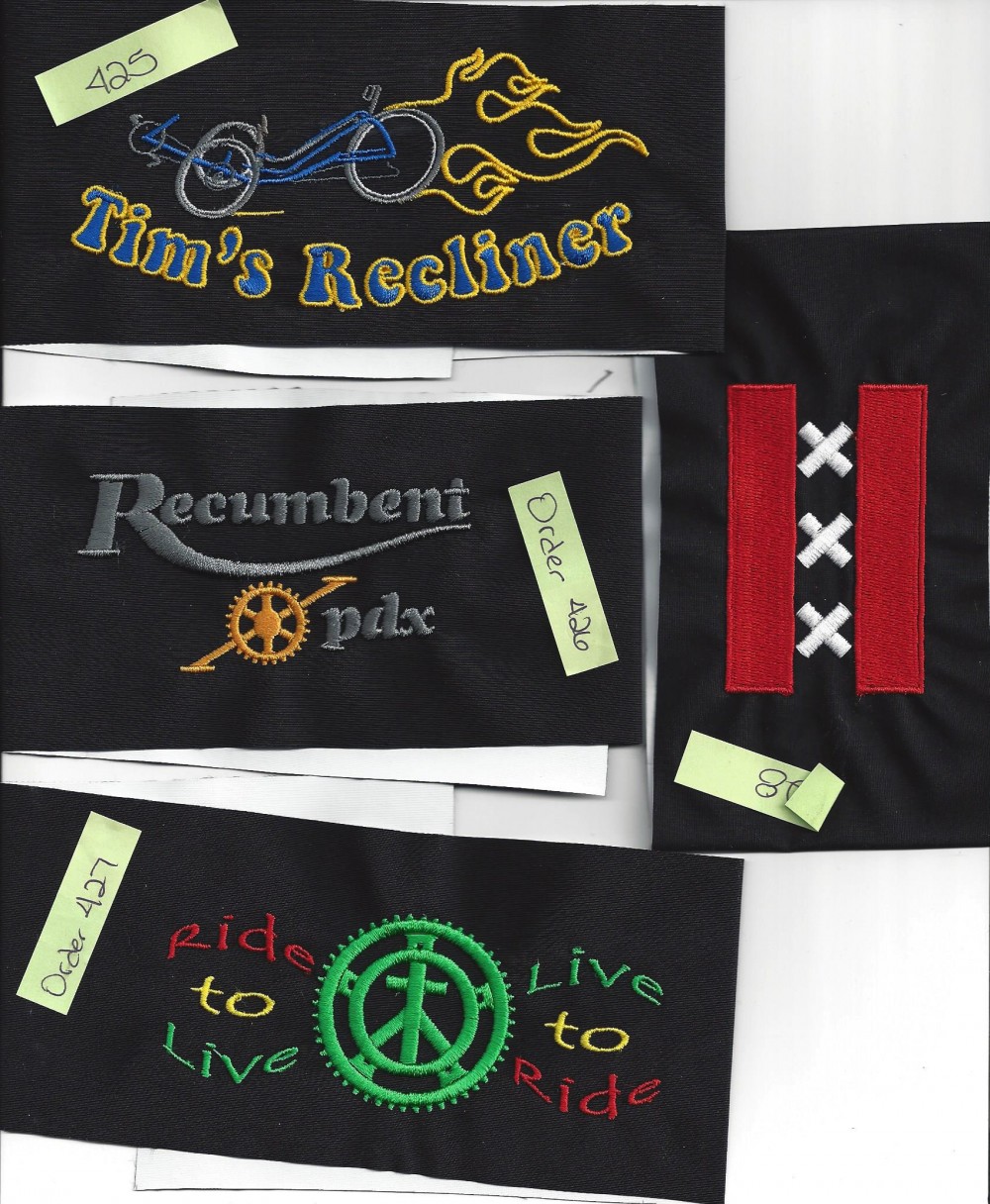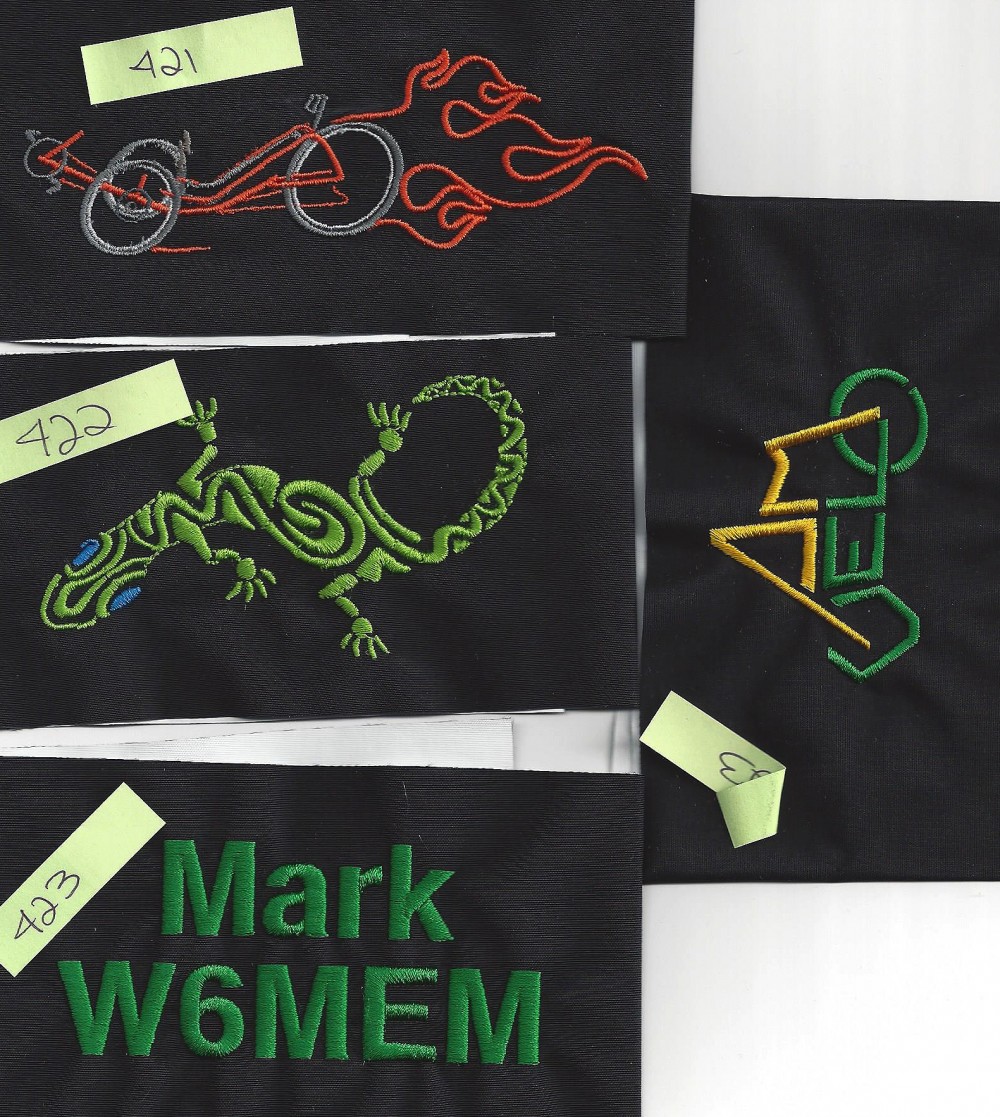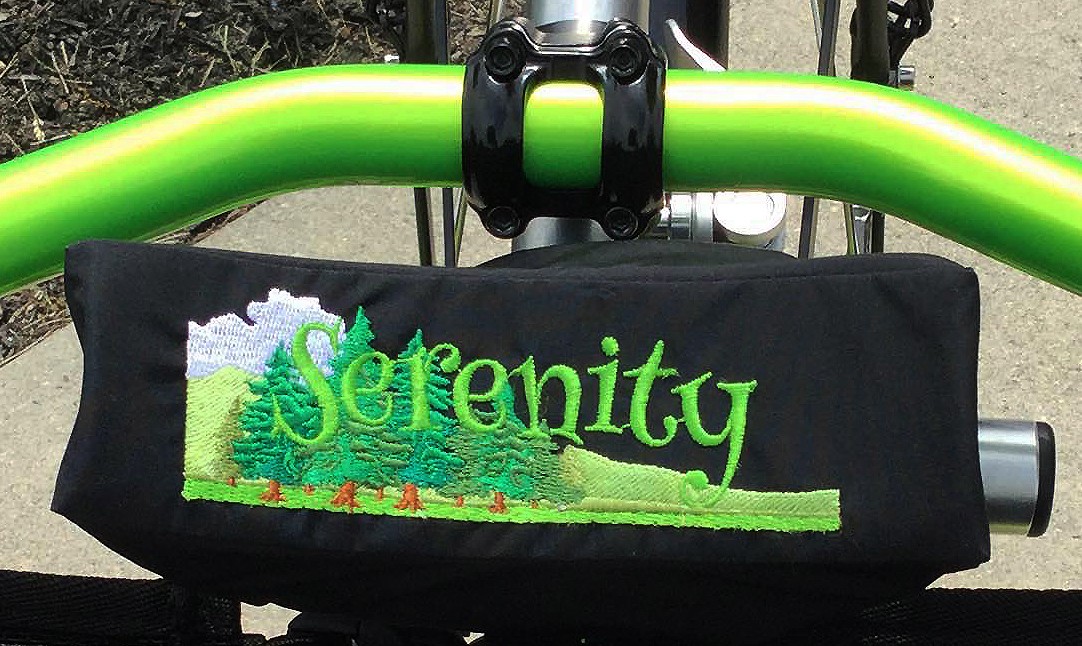 Some new embroidery swatches from Sandi now on their way to Zubin to sew into covers and then off to customers.

The foam pads are attached with hook and loop tape. They can be easily removed and swapped.